Our store contains a selection of live photos, portraits and vintage photos made by Gijsbert Hanekroot between 1969 and 1981. You can order prints of the photos in several editions and sizes. After Abba … Zappa Seventies Rock Photography, Hanekroot published another five photo books, of the artists and group he likes most: Rolling Stones, David Bowie, Lou Reed, Neil Young and Bob Marley. These books can also be ordered in our store.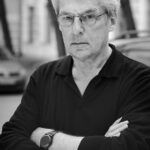 Dutch photographer Gijsbert Hanekroot (Brussels, 1945) started his career as a photographer of rock stars in the late sixties. Back then, the rock scene was not quite the well-oiled machine it is today. Things still had to be invented: light installations, sound, promotion, crowd control. This also applied to music journalism and photography. Almost every week, new groups were discovered. Every single day, people were learning things and adapting them.
Hanekroot's development as a photographer essentially ran parallel to developments in the music scene. He travelled frequently and came face to face with the music icons of that period. His photos can be divided into four categories: concert photos, studio photos, portraits and photos made at press conferences.
Gijsbert stopped being a professional photographer in 1983 and became an entrepreneur. In 2005 he began to digitise his archives. This led to the publication of his first book:  Abba..Zappa Seventies Rock Photography (2008) and exhibitions in amongst others Paris, London, Bologna, Moscow, Tokyo, Frankfurt, Hong Kong and Amsterdam.
In our store you can order many of Gijsberts photos, in various editions and formats. Can't find what you are looking for? Take a look at the gallery website www.gijsberthanekroot.com. There you will find about 2.000 photos of almost all pop artists from the 70s. If you have any special request please contact us.